Bio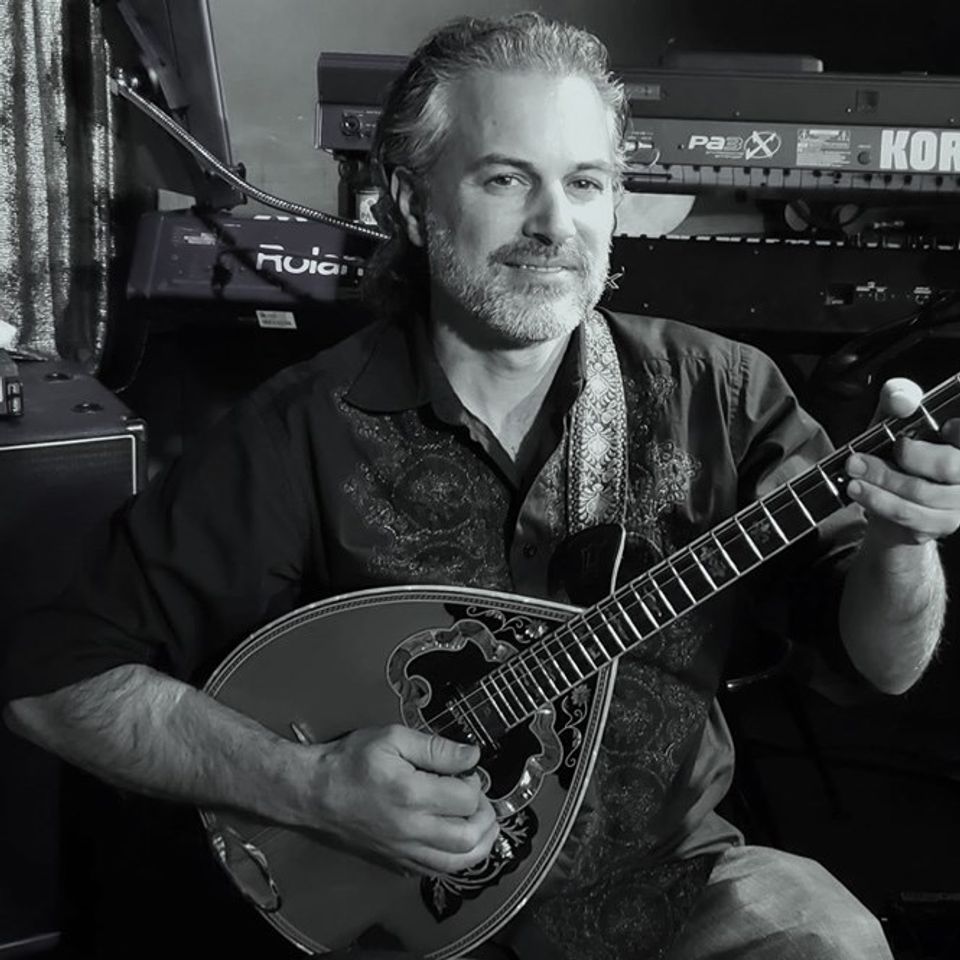 Bill Koutsouros
"It's all my fault - enjoy"
Music has always been a part of Bill Koutsouros. His father performed in several Greek and Middle Eastern Ensembles and his mother was one of the top belly dancers in the Philadelphia area... it was only natural that he would follow in their foot steps. 
Bill's professional musical journey began at age 15 with the purchase of his first red electric guitar. Bill learned to play guitar quickly and started writing music. After a year he formed his popular high school rock band, Black Rainbow. 
Bill continued playing original music, in and around the Philadelphia area into his college years, when he became interested and inspired to learn about musics from around the world. He particularly became interested his Greek heritage as well as Middle Eastern, and Indian music. As a result, he began teaching himself to play the Bouzouki, a Greek Lute, the Oud, an Arabic lute, Doumbek (aka: Darbuka, Tabli, Tsoumbeliki) a goblet shaped Middle Eastern hand drum and writing instrumental world fusion music. "My goal, when composing for Animus, is to stimulate the body, mind, and soul of the listener. As a musician, composer, and artist, I have no musical boundaries. I strive for diverse compositional arrangements that utilize and endless variety of grooves and rhythms. " His original world fusion music ensemble Animus was nominated for Best Roots/ World Music Performer 2000-2002 and Best Local Band 2006 by the Philadelphia City Paper. Animus won 3rd place for Best Best World Music Song: The Opus (Mediterranean Dreams) and Best World Music Album: The Movements by the 2009 JPF International Music Awards. Bill has performed in Kenya and South Africa with Angels of Harmony and around the USA including great local venues such as World Cafe Live, The Kimmel Center and the Philadelphia Museum of Art.
Bill Koutsouros attended The University of the Arts, Montgomery County Community College and Eastern University graduating with a B.A. in History in 1998. In 2006 he completed his graduate course work at Arcadia University achieving a level I Pennsylvania Teaching Certificate for Secondary Social Studies.
Currently, Bill works with Musicopia (formerly Strings for Schools) in the Spice Route Ensemble, conducts music residencies in Philadelphia Public schools with Philadelphia Arts in Education Partnership (PAEP), provides private instruction for Bouzouki and traditional Middle Eastern Percussion. Bill performs professionally with his world fusion band, Animus, Traditional Greek Ensemble Opa Band, Children's World Music Express, Mid-East Ensemble, The Sally Mitlas Orchestra and various ensembles in the Philadelphia area.